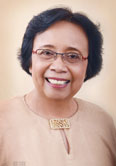 From the Editor Dr. Rita Manurung
On behalf of the Editorial Board and Editorial Team I am delighted to welcome you to the inaugural issue of our new publication: The Sarawak Library Journal (SLJ), Publication of Pustaka Negeri Sarawak.
The idea of having an open access online journal had been mulled over for quite a while but it has only taken off recently. Because the Sarawak State Library has been in operation since year 2000 we now feel that the time is right to start our own journal to encourage professionals and practitioners particularly from the region to document their findings and share their expertise, speciality and work experiences.
Our aim is to create a journal that is expert – reviewed for librarians, information professionals, archivists and record managers, researchers or any person interested in keeping up to date with issues and development, professional practices and research in the field of library and archive.
It is also our intention that every issue of the SLJ will carry an article specifically on Sarawak based on or relating to our Sarawakiana collection. This we hope will be of interest to readers.
e-ISSN: 2600-9412
OBJECTIVES OF THE SLJ
To act as a platform for library and archive professionals and practitioners, especially those from Sarawak, to contribute and share experiences, ideas and insights.
To inform the library and archive communities of practices on current developments and trends in knowledge management, library and archives.
To promote research on key areas within the cultural, social, historical and educational context of Sarawak.
SCOPE OF THE SLJ
The SLJ welcomes articles on a wide range of subjects and issues pertaining to information management (libraries, knowledge management, archives and records), history, sociology, anthropology, economics and other social science and humanities disciplines.
The journal is especially interested in studies that elaborate scientific and epistemological problems encountered by Sarawak and Sarawakians currently, scholarly works that provide fresh and insightful responses to the intellectual and cultural challenges of the modern world.
The journal will be a platform for knowledge dissemination on or about Sarawak and Sarawakian scholarly works.
Book reviews and notes will also be considered.
At this stage because the SLJ is just beginning to take shape, we look forward to articles on a variety of topics. All papers submitted for publication will be initially appraised by the Editorial Team. Selected papers will be subjected to review by a panel of experts appointed by the SLJ Advisory Board.
The SLJ will be published once a year and the number of articles per issue will depend on the number of articles received. The papers included for publication in this issue have all been approved by the advisory board.
In this issue we have also included a special section where we feature two books recently published by Pustaka. These books are available for purchase should any reader be interested to own a copy.
So much work had gone towards preparations for launching of the SLJ. We must acknowledge help given to us by Assoc. Prof. Dr Zuraidah Abdul Manaf and her team at the National Citation Centre, Kuala Lumpur. The contributors, the reviewers, members of the Advisory Board and the editorial team are all supportive and dedicated.
Finally I would like to thank the readers for their interest in the SLJ. We hope they find the papers stimulating and encourage feedback so that we can make intelligent choices for the next issue.
POLICIES
Peer Review
SLJ practices the double-blind peer review process. Authors will not know the identity of the Reviewers and vise versa. The authors may get the comments from the Reviewers but they will remain anonymous.
Papers under review are confidential and shall not be discussed with or shown to others without the permission of the editor.
Author Charges
There is no fee charge for author processing or submission. However, for other requirements, kindly refer to Guidelines for Submission.